Here we are on the eve of my return to school. I DO NOT want to go back! I would be lying if I said I haven't cried yet. Luckily, this week I only have to attend 2 classes (one on Monday and one on Thursday.) Next Sunday, if you were here, you could probably find me wallowing in self-pity, kicking and screaming. It isn't that I hate dental hygiene school. Its just that do not like the stress that it puts on me, and the stress that I put on myself because of it. If I can survive this semester, I will feel SO accomplished!  Enough of my pity party… I have had a wonderful break!
I got to start off my Christmas vacation by heading to Branson with my amazing husband! This is our 3rd year to go for the Christmas season and it has become a sort of tradition for us! We went in 2007 on a day trip but we missed 2008 because of the planning for our wedding, we also went in 2009 and now in 2010. We love going to Silver Dollar City and this year we got to go to the Titanic museum as well. We headed to Branson the day after my last final. After such a rough semester and not being able to spend so much time with Grant because of studying and everything, it was SOOOO amazing to spend 4 days straight with my man! I was SO sad when Monday came and he had to head back to work.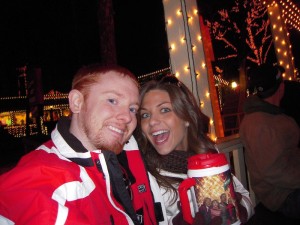 We didn't finish decorating our house until right before we headed to my parents house for Christmas. I didn't have a lot of time during the semester, especially after Thanksgiving. Here are a few pictures of our decor. We would still like to get a little more stuff to decorate for Christmas with, but we figure that we can collect that throughout the years.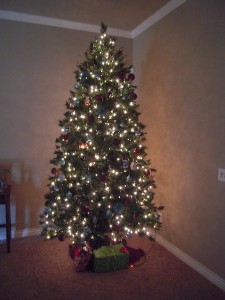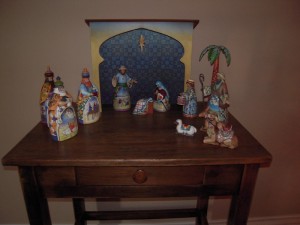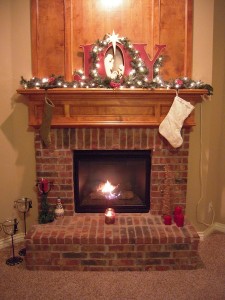 Since we spent Thanksgiving with Grant's parents this year, we spent Christmas with my family. We enjoyed about 4 days with my family. It was great to get to just relax with my parents, sisters, brothers-in-law, my niece, and my husband. We had a great time. My three-year-old niece, Abigail, even got a note back from Santa thanking her for the snack that she left him!!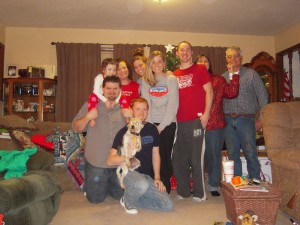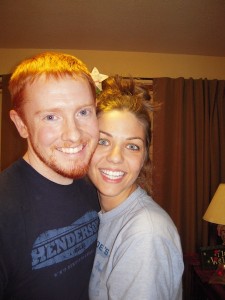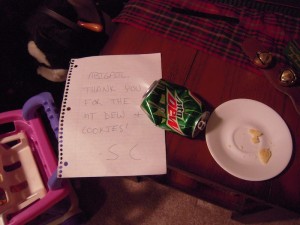 On December 27th, we celebrated our 2nd Wedding Anniversary. I cannot believe that it has been 2 years already. Honestly, it makes me a little sad that the past 2 years have flown by so fast… I can't imagine what the next 60+ years are going be like! Nonetheless, I am SOOOO blessed to have been able to be married to an amazing man for the past 2 years!! We got to celebrate by going to a steakhouse in Edmond called Boulevard Steakhouse. It was quite the swanky restaurant! It was SO nice to spend time together. We were able to spend the entire day together because Grant's company had the 27th off as part of their Christmas. I don't think it will work out that well next year, but I am SO happy that this year worked out so great!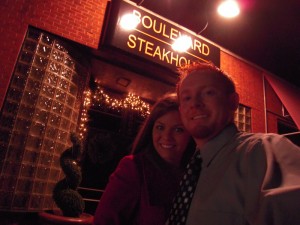 We rang in the new year sitting on our couch in the living room watching the ball drop on TV. I have thoroughly enjoyed my time at home. Spending time with my husband, reading, cleaning, and doing laundry are just a few of the things I was able to do. I was able to read about 4 books on my Kindle during the break! My goal was to read a couple of books recreationally and I cannot believe I got through 4! It was a great break!
I am SO thankful that my husband allowed me to just stay home and relax!  I am SO blessed! I cannot wait to get through this next semester! We begin seeing patients on February 14th. I am very anxious… in a good way and in a scary way! I ask for your prayers as I prepare for this crazy semester!
Feel free to leave me comments below! I hope everyone has had a wonderful new year and I pray that this year is filled with family and fun for everyone!!!