Well, Thanksgiving has come and gone. I am preparing to head back to school in the morning (kicking and screaming). I am NOT ready for my break to be over, but I had a wonderful break with my family!
This year was our year to spend Thanksgiving with Grant's side of the family. I am very thankful that Grant's mom and dad came to Oklahoma to spend time with us! I am so glad that we didn't have to do a lot of traveling, especially since school has been getting so exhausting! We had such a wonderful time and I was so happy to share our home with them and get to enjoy our home during my break!
I never got to upload pictures of what I finally decided to do with my table decorations so here is what I ended up with!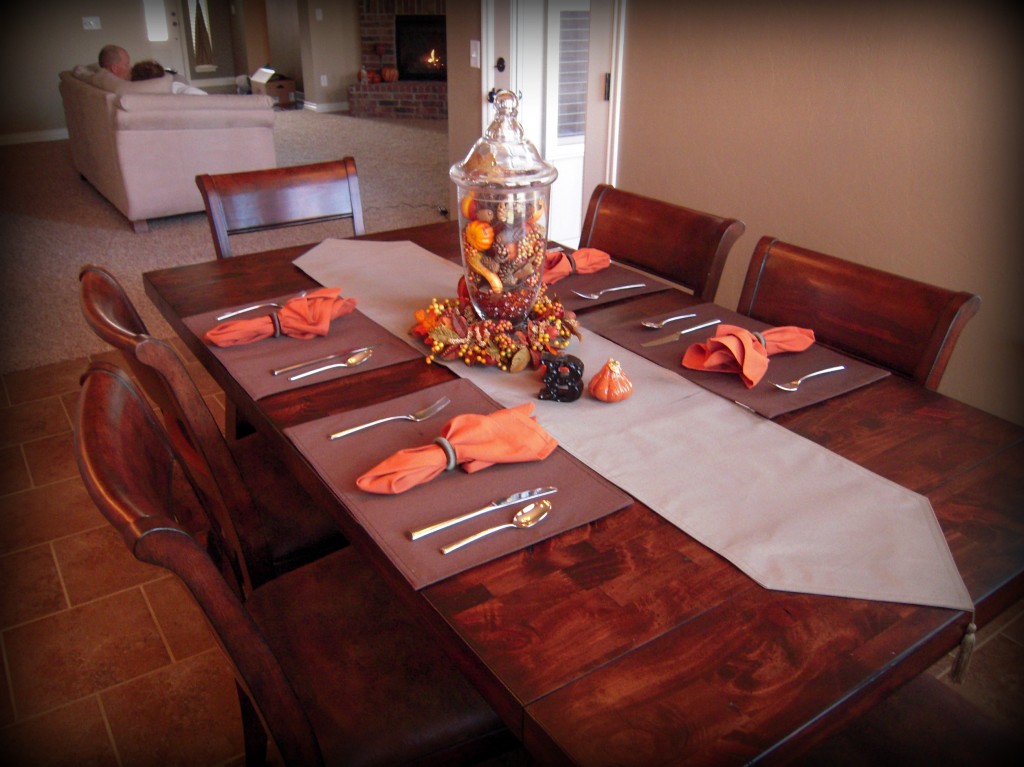 Nova Dawn (Grant's mom) and I made all the food in the morning and we had a late lunch around 2:30PM! I will say that Grant helped out in the kitchen as well by making the pumpkin pie! We had pumpkin pie and pecan pie, I wish I had taken pictures of them because they were absolutely gorgeous– picture perfect!  While I didn't get a picture of the pies, I did get a picture of the food on the table. (Note: the puffed potatoes are not pictured, but they were definitely consumed at Thanksgiving!)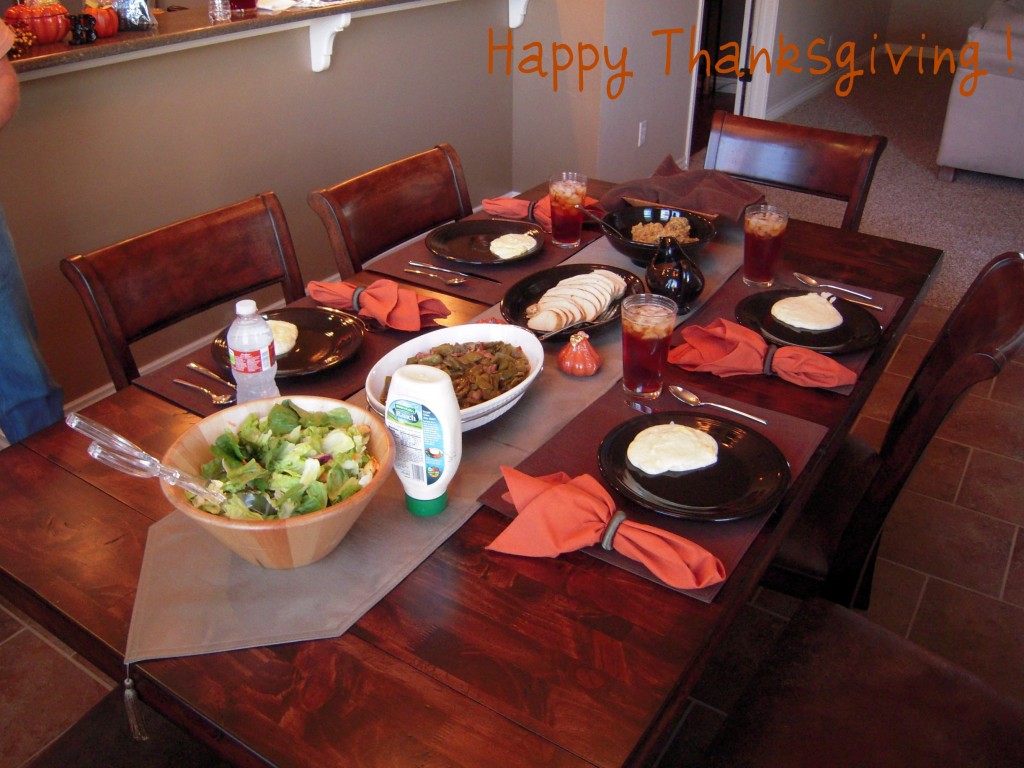 All the leftovers have officially been consumed! We literally ate EVERYTHING… I am very proud! We have been having Thanksgiving dinner for 3 days now, so I am glad that we are done with the leftovers! :)
Grant and John (his dad) spent most of Friday afternoon putting up Christmas lights on the house! I must say that our house looks absolutely beautiful! Grant still needs to finish up one tree in the front yard and then he will be taking some pictures so I can show off his handy work! :) I am SO happy to have Christmas lights on the house! It has been a dream since childhood! For those of you who don't know, my parents live in a hole in rural America where there would be absolutely NO ONE to see the lights if they did put them on their house! Needless to say, my parent's didn't put up lights when I was little so this is the first home that I have lived in that had any kind of Christmas decor on the outside! I am SO thankful that Grant put the lights up for me!
I guess I should go and prepare for clinic in the morning!
Only 3 weeks of school left in the semester!!! Hallelujah!!