We are currently working on updating my website.  I have a temporary template right now, but will soon have something a little more aesthetically pleasing!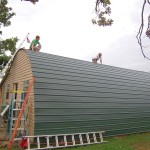 We spent last weekend in Seminole again helping Grant's grandpa put a roof on his shop.  I actually ended up helping the boys out.. even though I'm not in the pictures to prove it!  I had a really good time, honestly! When we arrive on Friday evening, we worked a couple of hours and got a couple of the panels put on the side of the shop  The following morning, we got up around 6AM and got to work! I always forget how beautiful it is out that early in the morning. It was a little chilly for me, but I know the guys were enjoying the beautiful weather.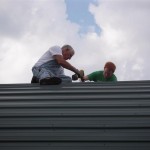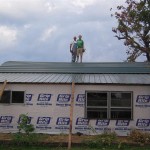 We finished by about 10AM, just as the boys were getting off the roof, it started to rain… it didn't rain long, but it was so nice to see rain!  It was beautiful!  The shop looks great and is now weather proof!  I made them take this picture to show their work off!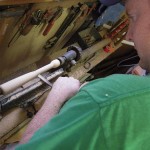 After the shop got covered, Grant showed me how to use the lathe in his grandpa's shop.  One of the things I just absolutely adore and appreciate about Grant is his  "handiness" and how knowledgeable he is about so many things (tools, electronics, etc.)! When Grant was in middle school, his parents go him is own lathe that he made pens on!  Seriously, who does that!?!?  My husband, that is who! He made a little bat that I burned "Bivens" into and then he stained it!  His grandpa's shop is filled with lots of fun stuff! It was a lot of fun to just hang out with my husband… he is so talented.  I am truly blessed to have a man who can do all these fun things. He is such a hard worker and I just love the man that he is.