A few posts ago I was talking about my plans for my parents to come last weekend… unfortunately, they weren't able to make it so my husband and I headed down to Seminole so that Grant could help his grandpa hang some doors on the new guest house.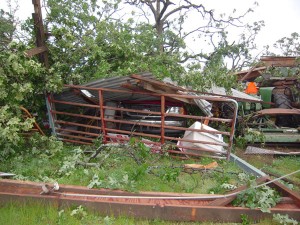 You might remember a little storm that blew through central Oklahoma around May 10th of this year. This tornado blew through Grant's grandpa's property and did some serious damage. This is a picture of the barn. We dug this truck out of the collapsed barn and there were only a few dents on the truck! It was pretty incredible!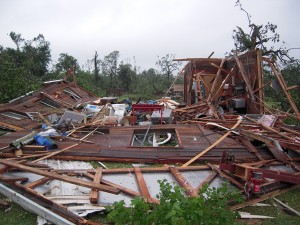 There was a pool house that used to set outside the house that was in the process of being turned into a guest house when the tornado tore it right apart. We were able to head to Seminole the morning following the storm and we stayed to help with cleanup a few days. It was very hard work, I can't imagine doing it everyday like Grant's grandpa has to do. This is a picture of the pool house after the tornado blew through and ripped it apart. I found it very odd that 3 of the walls were there and we have no idea where the back wall ended up! I have never seen tornado damage first hand like that and it was impressive to say the least. I wish I had some better pictures of the yard… all of the debris from the trees and all of the uprooted trees just made it a complete jungle!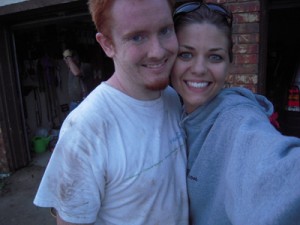 It was such hard work to just begin to move the limbs and trees from the yard.
We were very grateful when people would come by to help… even if it was sometimes only a few minutes. The second day or third day we were there (I can't quite remember) we were making a lot of progress… we had the tractor out and hauling off debris and such. I remember how accomplished it felt just to see the ground again in patches! I took this picture sometime during the morning that we were cleaning up… we were a mess and dirty! Everything was so muddy and wet!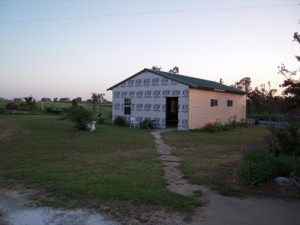 We have been trying to get back down to Seminole to help with the rebuilding and we were finally able to make it down last weekend. I ended up staying in the house a majority of the time studying while Grant and his grandpa were out working in the incredible heat. I am glad that they are both smart and worked in the early morning hours and were able to get finished up around 1ish in the afternoon. They did have to work in the horrible heat, but were able to quit at 1 and not have to go back out during the hottest part of the day.
This was the first time we had seen the guesthouse since it was a pool house! We were very impressed, I don't think I was expecting it to be four walls and a roof yet! The windows were even installed. Grant and his grandpa installed the doors and I'm sure we'll be going back down to continue helping with it. I believe that a youth from the church has been helping Grant's grandpa but is now headed to school so he won't be able to help out much anymore.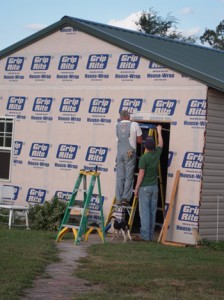 Grant and his grandpa ended up hanging 2 doors on the new guesthouse and finished up hanging a 3rd door on the shop. I think the the 3rd door was really a really tricky one to hang… something about the door being too small for the space they had or vice-versa… all I know is that they used a nail gun that used .22 bullets! :)
During the morning, I studied outside because the weather was really nice. I didn't mention that we got up around 6:20AM to get a move on the day! I hang around outside studying because it was SO nice out!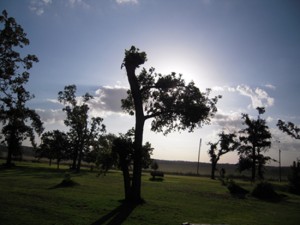 This was my view from where I was sitting. You can see that the trees are pretty maimed… I'm not sure if they'll ever recover. This yard used to be COMPLETELY shaded by all of the trees. They lost a majority of the trees to the storm, but at least they didn't lose them all. These are the ones that are left. The morning was VERY pretty and this cute little one-sided tree shaded me from the bright morning sun!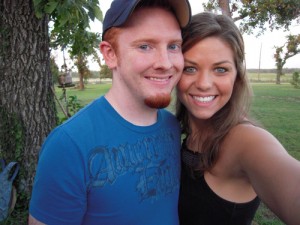 I thought I'd leave you with a picture of my hubby and me! This was when we got to Seminole on Friday night.
I hope everyone has a blessed weekend! Only 5 more hours of the work day!
P.S. I am working on getting a new layout for the site… as soon as I get that up, I have a lot of recipes that I want to share on my food blog so be looking for it!