I am not feeling too good today so I thought I would just write a short post and share something that my husband sent me this morning. It is incredibly hot in Oklahoma this summer and today was forecast to be the hottest day of the year! My husband headed off to work this morning and soon sent me and instant message asking me to water the lawn. I told him I would and he preceded to send me the following: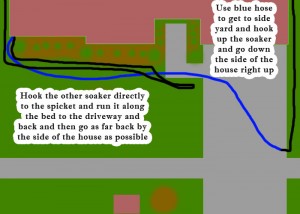 Yes, folks, this is a map of my front lawn and how I am to lay the hoses out! This just makes me laugh! My husband is brilliant and I just wanted to share how brilliant he is! He even made sure to make sure the mailbox and the dead tree beside the mailbox were placed and placed correctly!
Goodness! My husband just makes me laugh out loud sometimes! Although I post this is jest, I really do appreciate the thought that went into this!! I didn't have to think about how to hook the hoses up to get done what I had to do!
The temperature is sitting right at 103 degrees right now and I am wishing that I had a nice warm (yes I like warm… not cold) swimming pool to jump into right about now! It would be absolutely marvelous! I think I would settle for a blow up pool on the back patio in all honesty!
Hope everyone stays cool this very warm Monday! Hopefully I'll be feeling a bit better tomorrow and I can upload some pictures from my weekend and add some pictures and recipes to my food blog!
Happy Monday!