It is FINALLY Friday! This week has been entirely too long! I don't know why, but it just seems like it has been forever since I have seen my husband. We have been very busy this week and he has had a few projects that he has worked extra long at for work this week so I suppose that is the reasoning for this week seeming so long!
Today was a fairly mellow day. I went to the gym and did a little bit of cleaning… nothing too exciting. Johnnie, my BIL and Grant's friend, came over tonight to play the Wii again. Those two are so silly. Tonight I got to feed them some Nacho bake and refried beans, I now have some red velvet cupcakes cooling to give them for dessert. I enjoy taking care of people!
So Grant and I are members at the YMCA now. We got our membership around the middle of last week and I have gone about 4 or 5 times. I am challenging myself to run a 5K in the Tulsa run this October. This might seem like a very short distance, just over 3.1 miles, but if you know me, this will be a HUGE feat. I am NOT a runner, I don't think God purposed my body to run for fun… just for emergencies! Don't get me wrong, I LOVE a good workout, I just don't run. I have figured out that the way that I run is not very efficient, so because I run inefficiently I tire easily. Before we moved, I was running 1.5 miles without stopping. I went a little over a week without running because of the moving and I can now only run half a mile without stopping! This is killing me, but perhaps it will make me stronger BEFORE it finally kills me! :O) I have never challanged myself to anything like this, but I am usually successfull at things that I set my mind to! In addition to getting into running, I have challenged myself to no more sweets until July. Once again, it doens't sound like a huge challenge or a very long time but sweets are definitely my weakness. I know it is the reason that I haven't lost any weight despite my huge change in exercise regimen. I almost LIVE for sweets. Starting on Sunday, the sweets are GONE. My poor husband will have to sneak his treats! (I am allowing myself popsicles because it is summer and that would just be un-American)
I must go ice those cupcakes for the boys. I will leave you with a picture of Grant and I unlocking the door to our very first house!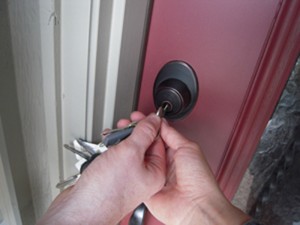 P.S. This is my DREAM door! :) I have ALWAYS wanted to have a red door… and this one has, what I call, a damask type thing in the glass! I am a sucker for anything with any sort of a damask!