Here we are in the last week of October!  I am so happy to have made it this far, but I know that I have O so much farther to go!
Coming up next week, we have the craziest week of tests that we have had so far. I am going to be so relieved when it is over! We get out for Christmas break on December 15th!  I cannot wait! During Christmas break, Grant and I are going to take a little trip to Branson and enjoy the Christmas light and just relax! I NEED that SOOOO badly! I know that is still over a month away, but I need something to look forward to!
I know my blogging has become very boring and dull, but my life is school right now! I need to put up some recipes so my posts aren't all just about my boring school life. I have a few pictures to upload of some of the meals I have made… I'll maybe do that after my crazy week next week!
My sister celebrated her 25th birthday this past Wednesday!
I sent my sister, Alison, a text on Tuesday night to see if she was excited about her birthday. She replied and said that she is a little depressed because she is another year older. For those of you who don't know Alison, she does not like growing up! I reminded Alison that these past 25 years have brought SO many blessings and such a full and wonderful life to her!
I am so thankful for my sister and I can't imagine if she hadn't been born 25 years ago! I just wanted to make a quick note to make sure that I wish my sister well in her 25th year!!! :)  I love you!!
Grant and I were able to go have dinner with Alison and her husband before they went to the Thunder season opener against the Bulls!! It has been 2 years since we have been together on her birthday so I was really excited to get to meet up with her! I would have pictures, but I looked like an absolute mess that day so I will just post a picture of us from some other day!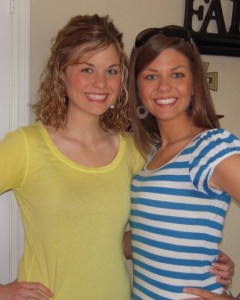 I hope everyone has thoroughly enjoyed their October! I probably won't be posting again until sometime in November… if anything exciting happens this weekend perhaps I will post that!
Happy October!!!