What a busy, but very wonderful weekend! I thought I'd take a little study break and catch up on my blogging.
My long-time friend Nathan was married to his bride, Amy, on Saturday!  I am SO happy for this couple.  Nathan found the sweetest girl ever and they are amazing together. Nathan and I both grew up in NE Oklahoma and my sister, Alison, and I have gotten to know their family SO well. In high school their family moved to central Oklahoma. We were able to stay in touch and now here we are living in the same town. Grant and Nathan get along very well and Grant was actually a groomsman in the wedding! It always amazes me how much things change as we grow up, but sometimes things change just enough to make everything that much better!  We are so blessed to be able to live so close to friends!
Here are a few pictures from the weekend festivities. The wedding was absolutely beautiful and the bride was SO gorgeous. I think their wedding turned out absolutely PERFECT and they definitely deserved it. (You can click the pictures to make them bigger.)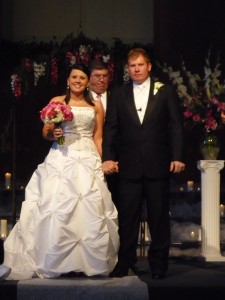 Mr. and Mrs.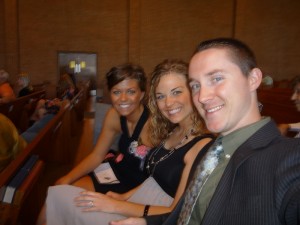 Here we are waiting for the ceremony to begin! This is my sister, Alison and her husband, Johnnie!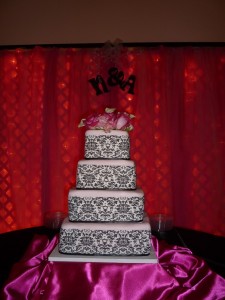 This is, obviously, the wedding cake. It was very classy and SO pretty!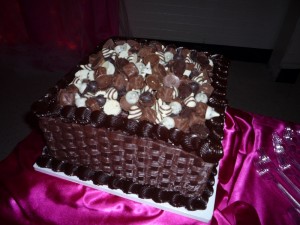 This is the grooms cake. Yes, that is a HUGE mound of chocolate candies on top! This is the cake that I ended up cutting. It was about 8 inches thick so it was definitely a challenge, but the cake looked amazing and was O SO yummy!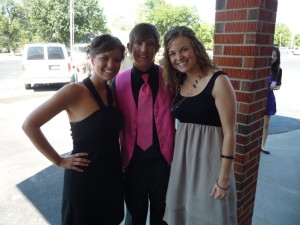 This is the groom's little brother, Stephen. He is so fun!
This i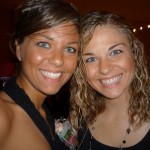 s my sister, Alison. SMILE SISTERS! :) We now live about 20 minutes away from each other! Hopefully, when we both get used to our school routines, we will get to see each other more often… plus our husbands need a date night to play video games! :)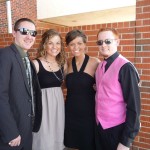 This picture is of Johnnie, Alison, me, and Grant.  It has been a while since we've all hang out together!  I am hoping that we can get together soon… hopefully this week. It is such a blessing to have family nearby!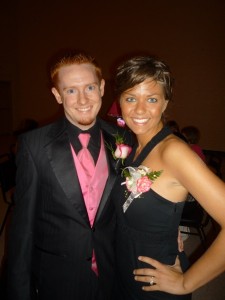 This is my sweet husband and me!  This man is so cool!  He can definitely pull off the pink!
We had such a great time with friends and family!  The weekend was VERY exhausting and we are still recuperating… hopefully a good night's rest tonight will help a lot!
I hope everyone has a very good week… I am praying that this week goes faster than next week! This past week was one of the longest weeks I have every experienced!