I have officially completed the first day of dental hygiene school. I am exhausted. Today was an orientation day so we didn't do much in the way of learning about dental hygiene, but in some ways, I think this was just as tiring. We filled out a lot of paperwork and talked about the expectations and everything. Tomorrow will be an even longer day, but we get our scrubs and our instruments and our student ids, so I think that is exciting! I still have to go back tonight to do my CPR certification which should take about an hour and a half. Then I will head home and snuggle in bed with my husband! This staying home all summer has made me a wimp!
I was reminded today how much of in introvert I am. I love meeting new people and getting to know them, but being in a huge group of students just isn't my thing. I am more of a one-on-one type of girl. I am going to challenge myself this year and see if I can get over this introverted…ness. My sister that is 2 years older than me is SUPER outgoing so I think growing up I just let her do all the talking and getting to know people. I hope I can get out of my comfort zone tomorrow and get to know some people… if not, it is going to be a very lonely two years!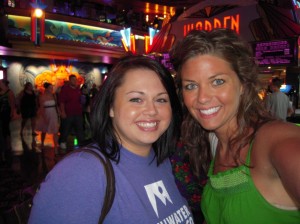 I haven't posted pictures from last weekend so I thought I should post a few from my last weekend of summer. Sydney, my friend, came down from Stillwater and we went to see "Eat, Pray, Love" and then picked Grant up and ate at Olive Garden. After that movie, we were SOO HUNGRY… especially for Italian cuisine. I was so excited to finally see her and hang out with her again.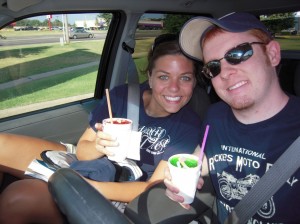 Last Saturday I dragged my husband around and we went to Target, Mardel, and Sam's… just a few of my favorite places! We even stopped and got a Snow Cone. I just adore snow cones. We had a lot of fun… at least I did. I thought we should take a picture to remember the moment by… and because I like pictures with snow cones!
I hope everyone has an enjoyable end of the week!  I might be posting with pictures of my instruments and scrubs next!