YAY!!!! I am finished with school until August… kind of. I decided to do a summer research project and I even got a grant to allow me to do the research over the summer. The only problem I have with this, is that I am constantly thinking about it and worrying about getting it done. I haven't really gotten started on it, but I probably should so that maybe at the end of the summer I can have a few weeks that I am not thinking about it. I wanted to do the summer research because I have to do a capstone before I graduate and I figured it would give me something to write about! :)
Last Tuesday, the night before my last day of finals, Grant and I went on a fun date! For one of my stocking stuffers, Grant got me a "Groupon" type thing to a paint your own pottery place in Norman. We didn't realize that it expired the day before my last day of finals. So while I should have been studying like crazy, I was painting my own pottery! I really enjoyed it and really want to go again. I think it was good for my brain to get a break from all the information I had been cramming into it for months! For those of you who know me, you know that I am NOT very artistic. I always hope that one day I will start on a craft project and be completely amazing at it, but this has not happened yet. Although I am not very artistic, I still really enjoyed the paint your own pottery experience at Be Wild for Art in Norman!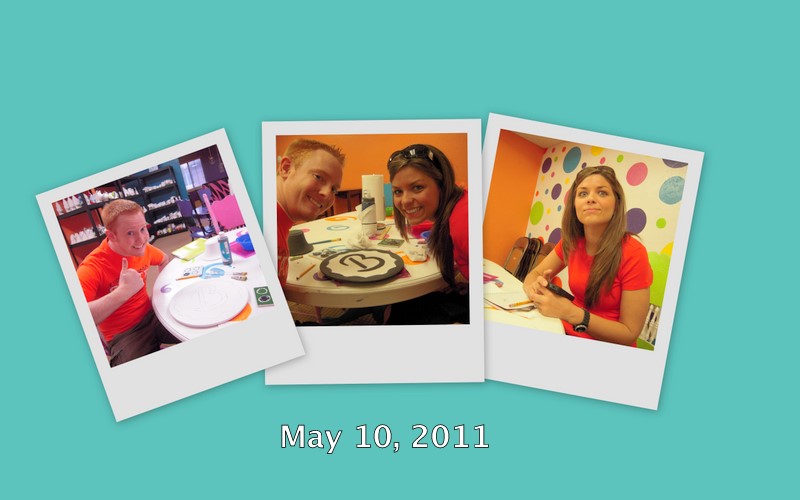 My summer has been surprisingly busy so far! This week has truly been the start of my summer.  My last final was last Wednesday, but on Thursday I went to Stillwater and volunteer with a few people in my class at the Special Olympics. I enjoyed it quite a bit. On Friday I had graduation practice and then on Saturday I went to graduation! I am SO excited for the seniors who just graduated and cannot wait to be just like them next year! :)
This week has been full of making phone calls and scheduling appointments that we weren't able to get done during the school year. Grant has been working on some more projects on the house. He made a cornice for our bedroom windows this past weekend and I am SO excited about it. I think he is going to build 3 or 4 more and he will be done with those. He is starting to think about building the shutters for the outside of the house so that is really exciting too! We have quite a few things that we are going to be working on getting done for the house this summer!
I will try to get pictures of the cornice up soon! I have a few phone calls to make before businesses start shutting down!
I hope everyone enjoys the rain that we are going to be getting this weekend/early next week!