Things have been very busy around here in the Bivens household! It looks like it has been a little over a week since my last blog post!!!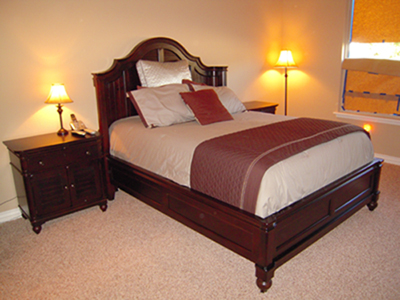 We officially have bedroom furniture! We are SO excited! I have NEVER had a bed before… when we were growing up, I had a bunkbed that I shared with my sister,
but that is the only bed I've ever had! We have a bed, two nightstands, and a nice cabinet with drawers and shelves and a place for the television… we will have to wait on the television until we can get a good deal on flat screen television. We have a MONSTER of a television right now so we have that setting off to the side, we don't want to scratch the top of the new television dresser. We are SOOOO blessed to have this bedroom set! We absolutely LOVE it! The color of it is called ""Tobacco."" Forgive me for how messy the room looks… we were still moving! The window has brown paper over it until we can get the blinds in! I will have to post pictures of the TV thing soon… haven't gotten around to taking those because it came a little over a week after the bed and nightstands were delivered.
I have been trying to soak every ounce of summer out before I head back to school on the 18th of August! I am very ready to start school because the sooner I start, the sooner I finish and can do what I love and get on with my life! :) I am very nervous about starting because of the workload and all the time I am going to have to put into it and the time I am going to have to spend studying away from my husband! I think he'll enjoy the break from me a little bit! :) I think I keep him busier than he likes!!!
My heart has been a little heavy this week for various reasons which I do not feel the liberty to blog about but it makes me appreciate and realize what I have in my sweet husband. This past year has also allowed a little bit of fear and doubt to creep into my mind as well. Maybe in due time I will feel at liberty to blog about some of my feelings, but this is not the time! :)
Today was a lazy, Sunday afternoon. We returned home from church around 11AM! It was nice to be able to spend the morning at church and still be able to enjoy doing things around the house. I didn't get a whole lot of sleep last night but I still woke up fairly quickly after the alarm went off and was able to take my time getting ready and we actually left the house on time! Grant got to sleep in about 30-45 mins longer than I did… he deserves it! He puts up with A LOT!! :) Right after church, we drove around some neighborhoods looking around at people's landscaping. We do not want to do a whole lot of landscaping, but we do need to have some sort of edging around where the bushes are in front of the house as well as around the tree in the front yard. We saw a lot of people that had brick that matched their house and we thought that was neat. Well have to do a little more looking around. I think we have decided to do rubber mulch instead of the wood mulch! It would be a much better investment of our time and our money!
Grant and I got to play some games this afternoon! He introduced me to the game of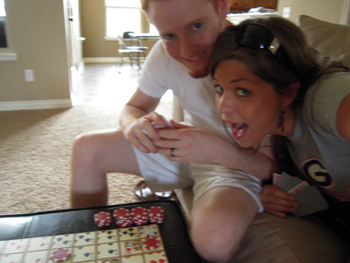 "Sequence." I have never it played before
but, man, it was FUN! This is a picture that we took… it's goofy, but it's the best we got! It was the second shot, we were trying to get the game in there! His grandpa made him a sequence board a long time ago.
Just this weekend, I have thought of a few things that I would like to do to the house to make it more "ours." So hopefully, through the years, we'll be able to do some of those! Maybe I'll get to do future blogs of the sort… that might be fun!!!
Last weekend, Grant and I were just being lazy around the house, so I got him to take me to Target because I wanted to check out the Kindle again! I absolutely want a Kindle SOOO badly! The only downside to the purchase is that I can't loan books out and get books from my mom on it, but I would read SOO much more if I could have something that small and tote-able! :) Anyway, the point of this story was to say that we went to Walmart in Norman and were able to purchase the outdoor conversation set that I have been eying all summer long! We got it for $200 off what it has been all summer! It made me absolutely happy! I will post a picture soon… it is getting ready to rain so the set is pushed up under the covered portion of the porch and it isn't set out nice and cute like it usually is! :)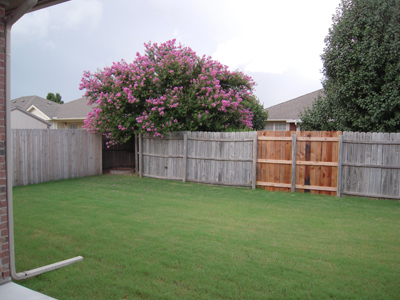 I am actually doing this blog post from the back patio! Grant ran out to mow the lawn before it started raining and it is absolutely gorgeous out so I thought I should take the opportunity to lounge a bit on the back patio! Quite enjoyable, I must say! This past week I found myself reading my book out here! We are so blessed with the way the house faces that once the afternoon comes, we don't have the bright sun heating up the back patio so we can enjoy our time out here better!
I guess I need to wrap this blog post up! I need to be blogging more often! I have quite a few subjects that I could blog on, one of them being my homework that I already have for school that I haven't even started!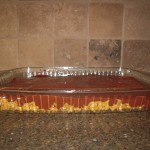 Hope the end of your weekend is great and the beginning of your week is even better!
~Cyn
P.S. Off to serve my hubby some of these!!! Scotcheroos!